Seven years ago, she was my junior in GESSBAND. Seven years then till today, we are bestest of friends, I quote, "A Sista God forgot to give me". Today, she celebrates her 20th birthday. (com'on everyone say it with me....)
HaPPiest BirthDAY SIS!!!
These few years been such a challenge for us as we pursued & took different paths as we grew up. However, (thank god) technology enable us to communicate tho we are miles away from each other. We share views, update our life on our blogs, told each other our joys & woes, which every moment I cherish a lot. Just on sunday night itself, we were both online for that mere ten minutes and i could feel her joy right from ware I was while she was telling me how she celebrated her birthday! I miss her soo much! But Im glad that she is doing well downunder-melb.
I really really REALLY hope she comes home soon (11th dec) so that we can hang out & find our laughter back again! (like the times after guitar ya!)
To Ya Li: Hope you like this lil' collage I did!!! & the pressie as well... :-* muackies!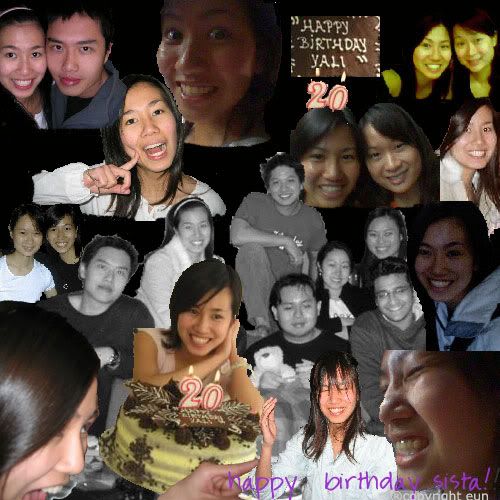 p/s: Here are some videos silly gurl & me took eons ago (think: 1998?) when i first got my digi...(Click on link then right click & save as)
Have a good, silly laugh! ;)