In chronicle order.... Presenting...
My dinner date with angel & meiyan which turned out to be a 'bio' gurls nite. LOL. Yes, gurls
do
'bio' gurls.Wot we call 'People-watch', anyway largely due to the thinning population of cute guys on the street. Tall, slim, good figure, nice hair, gd dress sense, bad dress sense, big thighs ( not like i dun have), busty, etc. Hehe... we can even bio the same person without telling each other which to look out for! Haa... it was FUN lar! Been a long time since i did that. Hur hur. Thanks girlies!!
Next we proceed to.....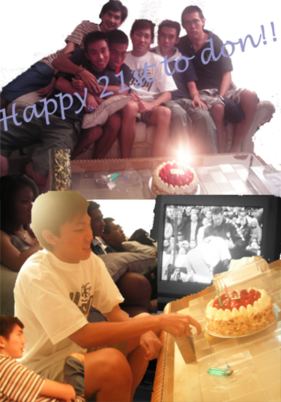 *yawns* is wot i can say. haha. Sorry Don(aldson). But by looking at the collage, can u tell wots more important there? Soccer or birthday?! Argh. 3 matches in total. It was the longest 4 hours i ever had.
Thankfully besides that, the food was great, his cute gf was nice & his house was BEAUTIFUL! But I thought he was a little lost and pitiful cos he brought out his own cake, threw rubbish and serve others all by himself. (haha, yes I also did not help much.
)
NEXT!
Both of us tried to make Deep Fried Tofu on sunday evening, we nearly bbQ the whole house instead. Kiddin, just that the smoke was so overwhelming that we teared and it made the house all hazy. Oh,
intelligent
me forgot I could close the kitchen door. Owell, the outcome was........ ok only. A little tasteless. So we came up with a formulae for it .
Anything + Mayo = Yumms!
Yea. Mayo saved the day
On the whole, I had fun! And i admit he's more of a cook than I am.
*
*
*
Let me tell you the highlights of this weekend. Dun be envious!
Fri: Company Kickoff at Rasa Sentosa - Teambuilding games afterwhich will be bbQ buffet by the beach.


Sat: Possibly (if no muscle aches) Sunset Bay volley with Grace & co.


Sun: Wakeboard @Punggol with TSP, BLT & NS men! (grace, nai, tL, cheekeong, jimmy & yours truly)
Told you not to be envious.... Haa!!
*
*
*
Whoo... Update!