I just realised that my pretty "mummee" can be even prettier after a day of doting session from "daddee". Yes, I have a set of "parentals" here in Brissy and just a week back, it was mummee dearest birthday!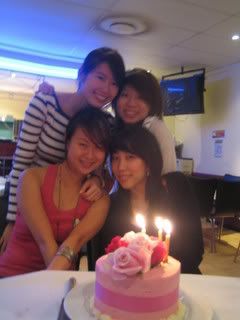 Happiest Birthday Esther!!!!

No, I did not forget to post this earlier just that hours after celebration came the frenzy of coating the 'Yali's bangle', another suicidal attempt of my lappie when Carrie Can(not) slot her XD card into my cardreader, and my last min packing. Hence this late shout out. So those Sydney trippers who FORGOT to wish her, pls do so now. Never too late!
Dedication: Tho I knew you a year back briefly at my home and at Manors Dim Sum place, it was till Ms. W. invited you both for Dim Sum (omg, it resumed at ware it stopped!!) then the friendship blossomed. Off to Sydney we went, zooming ard with the white Tarago, chasing Chaser around J.W's abode, trekking across Blue Mts, doing all the oh-so-tourist-like see/speak/hear no-evil monkeys actions, discovering the (not so big afterall) Big Prawn, piling heaps of Krispy Kreme, pretending to be 'natural' whenever *ahem ahem* and getting lost all over NSW to all the steamboat, sukiyaki, or pot-luck parties and "multinational corporation" assignment muggin days back in Brissy. You're one that I feel so 'naked' around yet im always around cause I am blessed to have known you. Muackz!