I am 21 today
Today I woke up feeling different. I am 21 today. Wot have I done all these 21 years of my life? Clueless I was. I was actually nothing. Therefore, I decided to boast the economy and treat myself to a
BIRTHDAY FIESTA.
Prior in the wee hours of the morning, I was partying through the nite in several clubbing hot spots, namely Double O, Mdm Wongs & Zouk. There I encountered the strangest people, things & happenings during my first few hours being 21. I was called
Darling
, not from the mouth of my beau, but some strange old chap. I had
S*x on the Beach
, not by the beach but via a syringe. I was told to hassle up, not by my buds, but some guy who assume I was his gf by the design of my top. I got horned by the car beside me, not by my friends but a taxi full of drunkens. I had supper with a group of people that doesn't know each other before only on that nite. Now how queer is my kickoff to my 21st life? However still, I appreciate the company of all of them. (Goofy Gary, Darling Dear, Gregarious Gloria & Nonchalant Neighbour)
Thereafter, I found myself amongst the Indians at MUSTAFA. This mall is a god sent to the Indians here, where they engage with
cheap
electricals, clothes, toiletries, sports wear & equipment, crockery, perfumes, computer wares, cosmetics, CDs, VCDs, & DVDs! Afterwhich, Secret Recipe was ware I dine with Nai's trusty ally-Grace. Stewed Lamb was my choice but nothing bets the lamb by the grill @OCC!! **drools Awaits at home was a package from YaLi (sis) !! Boy, do I love surprises that comes in parcels. Often, I wish to go home to a bouquet of Roses/Daisies or a hunk by the lift. But this love from DownUnder truly touched my heart. Huggies!
In celebration of my 21st, I had a post birthday treat to myself as well. I step upon
Chapter 2 of my life with a hair makeover (which is hardly visible **pouts) And finally, my BEAU!! Thankfully, he got to book out and took me for a simple Japanese dining follow up by Stepford Wives. :-* (muackz!)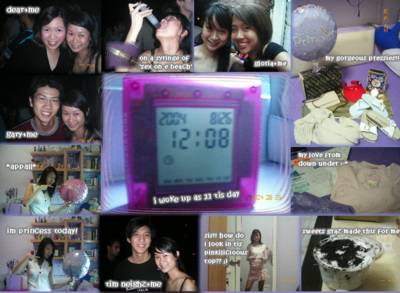 ::actual::