Nha Trang: 08 - 09.04.09
Route: Sleeper Bus from Hoi An> Nha Trang (12 hours)
Honestly, we never had thought to make it back to Singapore. It affected us so much that A wanted to warn and advise all travelers to AVOID SLEEPER BUSes. Our advice to all: NEVER TAKE SLEEPER BUS if you are travelling in Vietnam UNLESS you have seen the bus condition BEFORE booking your Open-Tour ticket. Even so, you can never be sure of the driver.
The bus we took was involved in a severe car accident en route to Nha Trang, we were 2 hours into our journey along the highway. At 10pm, it crashed into a white Daewoo and a lady was stuck in the vehicle for nearly 20 minutes before she was carried out. Prior to this, the driver nearly killed a motor biker until he successfully swerved away in time with all of us swaying around in the tiny bus fully loaded with 30 people. Somehow, all of us expected this to happen.
At the instant I heard the loud bang, I was hoping it was just a tyre puncture. Little did I climb out with a half crashed car in front of the headlights and an altar beside the scene. Yes, an altar at the very spot not further or nearer. Needless to say, I was trembling with fear, worry and sympathy. Unrest still lies inside me as I type and narrate this incident. Sobbing teens, keen helpers, calm officers, wondering speculators, and terrified passengers were spotted as the time passes by. Seconds by seconds, the congestion built up with a long stream of cars, buses and trucks waiting impatiently in their vehicles. As the intensity conjures, I hear the siren of the ambulance. Hope had arrived and prayers were heard. With 3 joss sticks placed in the altar, the traffic continues and the night past. Then, I spotted a casket in transit.
Although we were transferred to a seater bus and the driver was swapped, I gave prayers and said thanks to every truck, bus, car or motorbike we overtook while we continued our journey that night. Meanwhile, A & I were awake and worrying about the pregnant French lady, giggling at the dude seated in front who sat upright each time the driver horned, and also lest we get killed without knowing why.
Next 12 hours, we had the most marvelous and relaxing time (at least for me) trotting the town of Nha Trang. It is known for its pristine beaches therefore reminded me greatly of Gold Coast, Australia. Main attractions were the 4 Island tour and the Thap Ba Hot Spring, due to the lack of time, and thankfully right, we opted for the hot spring.
Pictures will speak for me..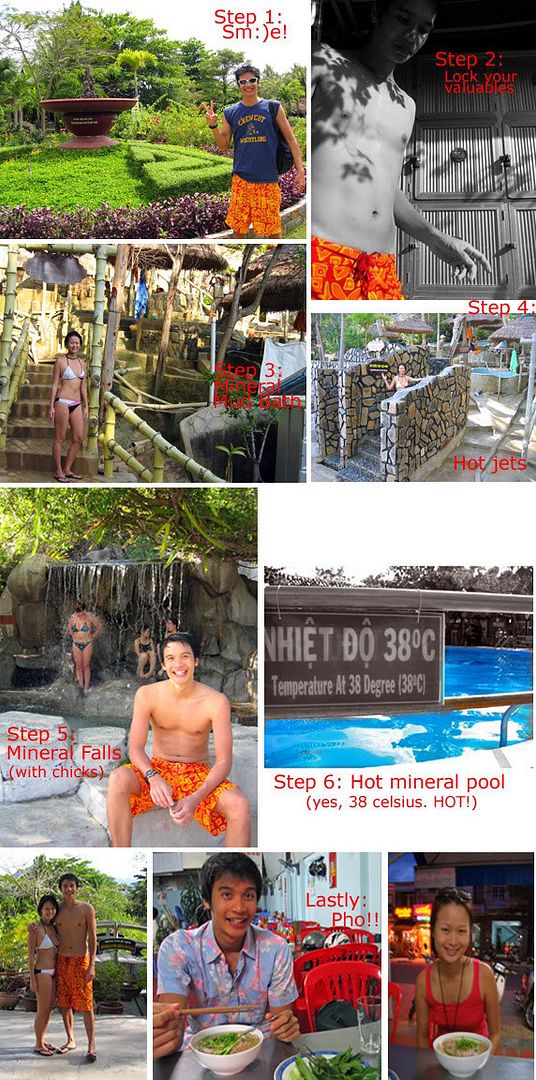 Next stop: Sai Gon (Ho Chi Minh City)