At least I think so. Hee.. my latest creation by photoshop with all my random pix..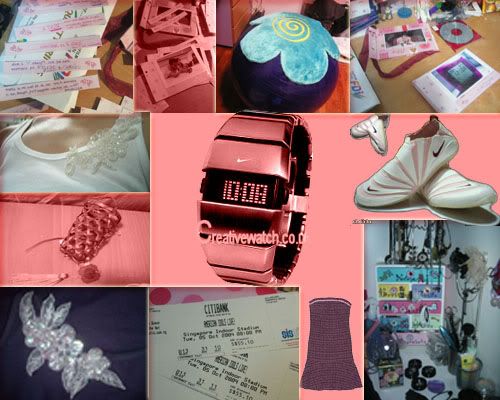 Any comments?? Its definitely tougher than collage maker but I tried my best! Thou shant succumb to short cuts. So more to come (i hope!)
Anyhow, American Idols here I come!!! Tomorrow it is. Needa agonise on wot outfit to wear for this special function I'm attending with
gracie
. Skirt? Jeans? Or..? Speakin of which, I pampered myself with the latest
Levi's Diva cut
for girls over the weekend. Blew a whole $150 on it. But its all worth it! Quoted from ms grace it was like...
"

nice

....

very nice

.... very VE

RY

NICE!!"
Jus that, I
had
to get it. =PpP
No more shopping sprees eun!! *grinz* OH hey, i went to Newsroom bar on friday and had a great time there! (kinda actually) the company was too gd!! Heee.. this time, i werent with the usuals. I was with 2 groups! Coincidently, they invited me to the same place. So i tot, might as well combine yea? They were Dear, Gary & cousins gang, e other were Grace, Chee Keong & Jimmy the mp3 specialist. (hehehe) That was the biggest group ever! Think there were nearly 20 of us there. HUGE huh?
Note: Did i tell you my latest cravings? Its
Deep Fried Tofu!!!
I search for recipes online yest. Shall try fryin them on sat. Cant wait! *yums*
Alrighty, guess wot? mr boss jus got us 'baos' Read: shocked face. You get me.
Laters!