I seriously hate the thought of not having a computer with internet access. Cos I cant blog, cant surf, cant check email!! Very flintstones ya know!!! Glad that on weekends I'm usually out with tL. Anyhoo, so my thoughts for a blog entry just wonders away before I can put it in print. Its such misery, weekends are the only time i really think abt stuff. Like those entries way below on marriage and stuff. See see, now all my readers view are just me narrating my days to them. How not intriguing.

Things like my family, my thoughts on things, studies, work, people, etc. Boring topics, but its wot i bring up every now and then. Don't you? Actually I wish my bloggie to be more interactive, I wanna know who read this and bother to listen to wot I'm sayin here. Which also allow me to chat up with them and see how are they doing day in day out. Owell.

Lemme narrate wot happened on my weekends. On friday, I got to meet up with YiLin@HarbourFront's Sakae!! So nice to catch up with all my old girlies from those carefree days I had before. On the other hand, besides knowing wot happened in her life, I found out that a mutual friend of ours has not been having a time of her life. Well, shan't name names here, but I truely wish for sooner day of realisation that all the friends surrounding her are the ones who will be by her side always and they are then her true love/s.

Promised not to publish her pic here, so its safe here in my locket. Here's wot the lovely gurl got for me! And i'm lurrrrrrrving it!!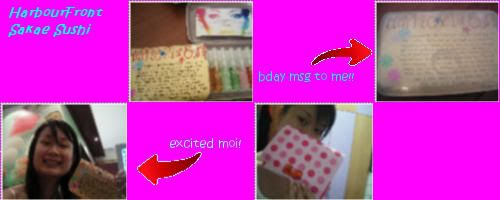 ::A fragrance starter kit of 10 scents for me to mix & match for any moods of any kind!!::


p/s: Hey, btw, I think is really swwwwweeet of John to ensure your safety home every day & every yr since 6yrs back!! such blissful couple i envy ;)

Guess wot was the special thing tL & me did this weekend? Well, mabbe I should keep all of you in suspense. *grinZ*

Alright! We din do anything really different this week. Jus that its a little flavour added to the 'usual' stuff we always do.


tL: "wanna rent vcd... Make popcorn den watch show.."




We did rent 4 vcds and had popcorn. Only that the 'make' portion we din fufil. Cause cannot find leh. Hahaha, so we end up buying the already 'popped' ones.


Then he had to book in that nite for the half marathon run on sunday morning... and the day ended. Disruptive isn't it?

Fortunately, after the run on sunday, we meet up again. This time, he picked me up from home and in the midst of tryin to agree on a place to go to, we ended up at Siglap.

Usual, took a stroll around the neighbourhood, had munchers at Cartel then off we go again! To town, ware else? Meet up with the boys (sebas & alvin minus duck, haha) for dinz @sushi tei. And wow, havin the right contacts really are the best thing. We had so much FREEEEE food!! yums!!

So here, my weekend for all of you out there.

Cheers to more different dating places & pop corn to come!!!